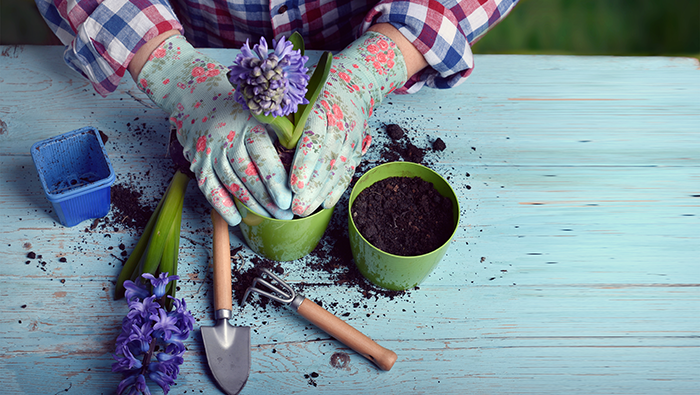 Let's face it: professional landscaping is expensive. Still, as homeowners, we want our yard to look beautiful, be functional and extend our living space beyond the front door, where we can enjoy the crisp, cool weather all fall season long. In this guide, we'll introduce you to the fast, easy and clean DIY hacks that you can tackle on your own with this powerful two-in-one tool. Bonus: it's designed to be quieter than the others—so you can stay on peaceful terms with your neighbors.
1. Add Structure and Definition
One of the fastest and easiest ways to add visual interest, organize your outdoor space and create a more functional and beautiful yard is to define the edges and borders. An easy way to do this is to sketch out your design, then use a shovel to "cut" a line through the grass or soil. This line lets you create contract between, say, gravel and grass, or insert a divider that will keep mulch around a tree from spilling over, or weeds from creeping into a garden bed. When you're done, make clean-up easy with a wet/dry blower vac that can suck up leftover gravel or blow sand and dust off the finished project.
2. Get Gardening—Without Breaking A Sweat
DIY hard landscaping offers something for all skill levels, but it can mean back-breaking work. Thankfully, a wet/dry blower-vac can make short work of much more than sawdust, water leaks or fall leaves. When digging raised beds or moving masses of potting soil, throw out the time-consuming shovel-and-wheelbarrow method. By breaking up the soil first, you can then suck it up and dump it somewhere else; same with other materials. If digging holes for poles or fencing, don't stress multiple trips to transport the debris—just move from one to the other with vac in hand, or blow the extra soil out of your yard.
3. Mulching, Simplified
Unless you're trying to burn a ridiculous number of calories in one day, there's an easier way to clean up stray mulch. Mulch spills throughout the garage and all across the lawn from moving those bags around? Use the detachable blower to redistribute or remove the rest.
4. Add A Kid-Friendly DIY Feature
Remember that epic treehouse-city from the movie Hook? The Lost Boys really had it made in the shade. You can start a little smaller, however, and still build something amazing; and with treehouses being naturally less formal and more whimsical, feel free to take some creative liberties with the design. Plus, when you're done, use your wet/dry blower vac to make short work of the wood chips and debris, so you and the kiddos can spend more time hanging out in the treehouse sipping hot cocoa, less time cleaning. We love this informal, yet thorough guide to building a treehouse in your own style.
5. Post-Landscaping Weekend: Clean Out the Garage and Shed
When the work is done, your landscaping looks fantastic and you're ready to enjoy your home and yard, don't let any lingering mess get in the way. Having an ultra-fast, ultra-easy wet/dry vac with plenty of built-in accessory storage in your garage or shed means the "hard work" of tidying up after takes moments, not a month. Whether you're sucking up the last of the wood dust or potting soil, or blowing out any last stubborn leaves or gravel, keep this powerful vac on hand to make project wrap-up a breeze.