Posted by Vacmaster on Aug 8th 2016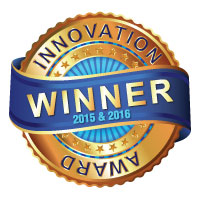 Cleva North America, Inc. (Cleva), receives The Home Improvement Executive's 2016 Gold Innovation Award for its line of Vacmaster wet/dry vacs.
This year's award follows 2015's first place for Vacmaster's wet/dry vac innovation.
The award touts Vacmaster's advanced motors with improved suction power; user-friendly interface; large, easy-to-locate switches; integrated accessory storage; and top-mounted handles for easy transport.
The Home Improvement Executive publishes the magazine for industry leaders at big-box stores, hardware distributors, and buying groups. Their Innovation Award winners include companies that have introduced unique products and features to the home improvement market during the last 12 months. Editors consider corporate/brand websites, marketing material, articles, and interviews when choosing award winners.
"We're honored to receive an award that highlights our focus on creating innovative products that best serve our consumers," stated Bob Davis, President at Cleva. ".....and we will continue to lead the wet/dry vac category in motor technology and user-friendly features.
About Cleva North America, Inc.
Cleva North America, Inc. offers a dependable portfolio of innovative brands including Vacmaster®, Vacmaster Professional®, Duravac™, Armor All™ and LawnMaster®. With more than 17 years' experience in engineering and motor technology, Cleva incorporates the latest processes and highest standards for engineering, design, and production. The result is high-quality products with exceptional performance and durability.
The Vacmaster product line includes a convenient 2.5 gallon, portable wet/dry vac that is great for any home or office, a rugged yet easily maneuverable 16 gallon stainless steel wet/dry vac with an industrial two-stage motor for heavy-duty use, a full unit HEPA wet/dry vac that meets EPA's standard, and a wet/dry vac for every application in between—Even a wall mountable garage wet/dry vac with a remote control on/off switch.
We take pride in producing a high-quality product and will continue to come out with new products and features to impress consumers. For more information on Vacmaster®, visit vacmaster.com; Like us on Facebook® (facebook.com/vacmastervacs); or Follow us on Twitter® (@vacmastervacs).